Welcome to Legend-Plates.com!
Here you will find top quality custom engraved legend plates for all your commercial and industrial needs. Fast, accurate delivery of your order is our top priority.
During my career as a Control Systems Engineer, I found difficulty getting custom legend plates delivered correctly and quickly. It seemed most shops that had the equipment to provide these were focused on other types of engraving. They didn't understand the terminology, the importance of schedule and the details of what I was doing with their product.
Spending 20 plus years in factory automation left us with a certain mindset. So we developed an automated process for creating our product. This allows our products to be produced more quickly and accurately than ever before. Gone are the days of waiting weeks for your order, only to find a misspelling or typo in the layout. Eliminating errors and streamlining our process is our passion, and I'm sure you will see that in our product.
Thank you for visiting our site.
Chuck Phillips, PE ret.
Carolina Laser, Inc.
Connect with me on Linkedin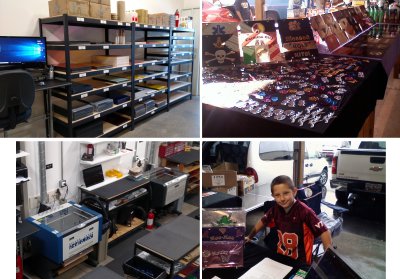 Clockwise from the upper left: Inventory System, Early days of laser cutting mirror, Two laser engraving cells, and Alec.