Custom Engraved Legend Plates
Easy Online Ordering, Fast Delivery!

Carolina Laser, Inc. is your online resource for electrical panel legend plates and engraved signage. Our experience in Engineering and Manufacturing sets our standards of accuracy, speed and repeatability. Your satisfaction is guaranteed! Click Here to Request a Quote or shop catalog items below.
Control Panel Legend Plates
Engraved with Your Choice of Text
Custom Instrument and HMI Overlays
30mm and 22mm Standard Sizes
0.060" thick engraved plastic Lamacoid
Indoor or Outdoor use
Short Lead Time
Made in USA
---
22mm Legend Plates

These high quality legend plates will fit standard 22mm selectors, push buttons and indicators. Several styles to choose from and a spacing & fitment guide are here. Click for more information on our 22mm legend plates.
---
30mm Legend Plates

Our 30mm legend plates will fit standard 30mm operators. More common in the US market, these are often provided by manufacturers such as Allen Bradley and Square D. We have several styles to fit your panel layout. Click here to see our selection of 30mm legend plates
---
Rectangular Legend Plates

These are used almost everywhere in the modern manufacturing facility. Available for online ordering in a variety of colors. Sizes range from 1/4" x 1" to 2"x 10".Any size can be made - so ask if you have special needs. Click here to learn more about our Rectangular Legend Plates.
---
Custom Legend Plates & Overlays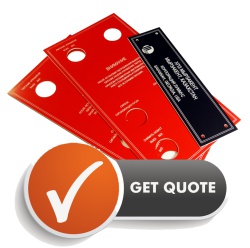 Custom made from your drawings. We can import and process many vector (CAD) file types, but prefer *.dwg. These custom legend plates are perfect for OEM applications. Just send us your *.dwg (preferred), *.dxf or *.pdf file for a quick quote. Be sure to include your color choice and quantity. Lead time on these is slightly longer than our standard items, but is usually 1 week or less. Maximum size is 24"x18".
Click here to Request a Quote.
---
Emergency Stop Legend Plates

One of the most important systems you will find in the plant! We have the universally accepted round emergency stop legend plates ready for shipment. Available in 22mm, 30mm, English, Spanish and French. Click here to see all Emergency Stop Legend Plates
---
Your Choice of Colors
Eleven stock colors allow color coding of operator functions. The always popular white with black text and black with white text are useful in many parts of the plant. But we also have Red, Green, Blue, Yellow, Silver and Orange. You won't find this many choices at many other engraving shops. See the Stock Colors.
Fast Shipping!
Super fast shipping keeps your project on schedule. Most orders ship in less than 2 business days. A variety of shipping options are available, from UPS Red to First Class Mail. Tracking numbers are automatically emailed to help keep you informed. We know the importance of your project schedule and do our best to keep you on track. Shipping and Lead time.
Instructions for ordering: How To Order Legend Plates
Questions?
Most questions can be answered here:
Or, Send us an email or give us a call. We're here to help! sales@legend-plates.com or 888-279-0026.